Coldingham beach café petition handed in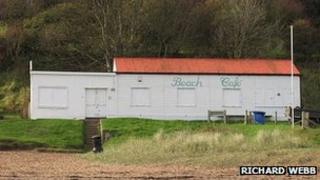 Campaigners have handed over a 2,000-signature petition in a bid to save a beachfront cafe in the Borders.
They signed up after hearing the current operators of the Coldingham site had been given notice to quit.
They said the council's offer of a three-year lease does not give them enough time to recoup their investment - and they wanted longer.
Scottish Borders Council (SBC) said it had done everything possible to try to reach an agreement.
Petition organiser Walter Powner and fellow protesters were joined by MSP John Lamont at council headquarters for the handover.
He called upon SBC to suspend its eviction order.