Michael Moore 'honoured' by Scottish secretary renewal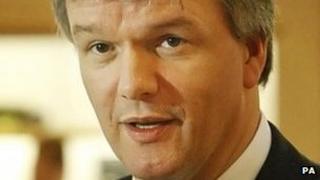 Borders MP Michael Moore has said he is "deeply honoured" to have been reappointed as Scottish secretary.
The Lib Dem, who represents Berwickshire, Roxburgh and Selkirk, was retained in a Cabinet reshuffle.
He said he looked forward to "continuing to serve the people of Scotland and the Borders" in his role.
He described his responsibilities as a "great privilege" and said that he was "committed to continuing to fulfil both roles energetically".
"In the months and years ahead Scotland faces many challenges in terms of the economy, growth and jobs," he said.
"I am committed to getting the best deal for Borderers and all other Scots as I continue to represent Scotland in the UK Cabinet.
"In the next few months I will also be continuing my work to ensure that the independence referendum which will determine the future of Scotland is legal, fair and decisive.
"I am urging the Scottish government to work with us to achieve this aim."