Dumfries and Galloway tractor patience plea to drivers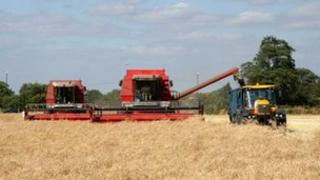 Drivers have been urged to show patience as a spell of good weather sees a rise in slow-moving farm vehicles taking to the roads.
Dumfries and Galloway Constabulary said there had been an increase in heavy-laden tractors, trailers and combine harvesters on routes across the region.
They have asked drivers to take extra care, especially when travelling on narrow, rural roads.
They encouraged motorists to keep "road safety to the fore".
Sgt Billy Broatch said: "This is a good time to remind all drivers about the dangers associated with queues of traffic getting stuck behind a slow moving agricultural vehicle.
"It is easy for driver frustration to set in when being held up for a long distance, making drivers take extreme risks in trying an overtaking manoeuvre.
"We ask for patience by all drivers and for the drivers of farm vehicles to be aware of the congestion that can often be caused by their vehicles, and for them to take the opportunity, if it arises, to pull safely over into a lay-by in order to let traffic past."