Dalbeattie school campus costs estimated near £21m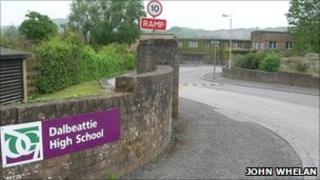 The estimated cost of developing a new shared school campus in a south of Scotland town will run to nearly £21m.
Dumfries and Galloway Council's education department is seeking approval from councillors to take the Dalbeattie project forward.
The creation of what's termed a "learning campus" for Dalbeattie would include secondary, primary and nursery provision.
The complex would be constructed on the existing high school site.
It would include development of community facilities such as a third generation all-weather sports pitch and running track.
The plans also include proposals for a library, vocational training facilities and a base for community police officers.
Figures indicate the council will have to find somewhere between £11m and £14m depending on the level of support from the Scottish government.
Education councillors are being asked to approve the development of the project as a shared campus and to the launch of a formal consultation on relocating the town's primary school to the high school site.