Leon Pedley Stranraer rape trial hears tree tie claims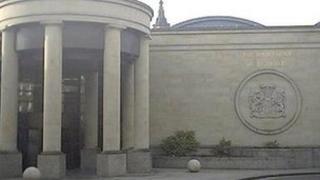 A young woman was left tied to a tree in woods after she was allegedly raped by a man she met in Stranraer, a court has heard.
The 17-year-old told the High Court in Glasgow that she was then abandoned by the accused, Leon Pedley.
Giving evidence, she said she had been grabbed and punched before being taken to a woodland area.
Mr Pedley, 20, is on trial accused of rape. He denies the charge and has lodged a special defence of consent.
The trial heard how he met the girl in Stranraer on 13 March this year.
She told the court he grabbed her by the throat and punched her in the stomach before taking her into woods.
She then described how he used a shoelace to tie her hands behind her back before having sex with her.
The attack was said to have continued before Mr Pedley allegedly tied the girl to a nearby tree with laces and left her.
The girl recalled eventually managing to free herself and trying to get out of the woods.
She later reached a path where she met a friend.
The trial before Judge Lord Brailsford continues.