Neil Armstrong memorial service sees Kelso piper play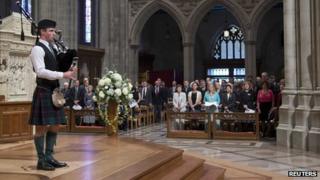 A Kelso-born piper has played at the memorial service in Washington DC for Neil Armstrong, the first man to set foot on the moon.
The astronaut was proud of his Scottish roots and was given the freedom of Langholm in 1972.
Angus Sutherland, who also lived in Melrose, is a recent graduate from Washington DC's Georgetown University.
He wore the Armstrong tartan kilt, as he piped the astronaut's family into the city's cathedral.
Armstrong died last month at the age of 82 and his funeral in Cincinatti, Ohio, was by invitation only.
Now he has been honoured by a public memorial service.
Mr Sutherland was asked to play on behalf of the Scottish people by the Scottish government.
The 22-year-old said it was an opportunity which "fell in his lap" thanks to a meeting with a diplomat from the British Embassy in Washington DC about a year ago.
"I think what happened was Alex Salmond, on hearing about Neil Armstrong's death, contacted NASA and offered them a piper for the occasion," he explained.
"Then it was passed over to the British Embassy to sort that out."
'Muckle Toon'
Mr Salmond said the Scottish government wanted to honour a man proud of his Scots ancestry.
"Neil Armstrong was a modest man who achieved magnificent things," he said.
"He was extremely proud of his Scottish roots and never more so than the day in 1972 when, in the 'Muckle Toon' of Langholm in Dumfriesshire, he accepted the freedom of the town.
"Local people were surprised but delighted when he accepted their invitation and when Mr Armstrong declared that Langholm would from then on be considered his home town.
"Forty years later, the collective memory of that day has not dimmed."