Kirkmabreck timber port revamp plan 'could cost £250,000'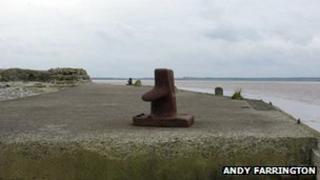 It has been estimated an investment of £250,000 would be needed to bring a disused Galloway harbour back into use as a commercial timber port.
The costs have been calculated on the back of a feasibility study into the re-opening of the Kirkmabreck Pier.
The site near Creetown was previously used to ship quarry materials but has lain dormant since the 1990s.
Owners Tarmac are keen to re-open the harbour and have been exploring the timber transport option.
A feasibility study completed earlier this year found that general cargo shipping from Kirkmabreck Pier was possible.
However, repairs are needed to the quayside wall to prevent its collapse and dredging work would be required to accommodate timber transport vessels.
The total cost of bringing the quay back into use is estimated at £250,000.
It is claimed the move would initially create a handful of new jobs and help safeguard others in the local forestry industry.
The feasibility study was part financed by Dumfries and Galloway Council.
Strong interest
In a report to its Stewartry Area Committee, timber transport officer James England indicated that the redevelopment of the port should be led by private sector investment.
He suggested there may be opportunities to secure co-funding from organisations such as Scottish Enterprise and the Strategic Timber Transport Scheme.
A contract has already been drawn up between Tarmac and John Scott Transport for the future operation of a commercial harbour at Kirkmabreck, and several timber firms have expressed strong interest in using the facility.
It is estimated that initial operations would see six to 12 boats dock, annually.
The vessels would have the potential to carry a combined total of up to 18,000 tonnes of timber - which equates to some 700 lorry loads.
Further work is now under way to explore funding and design options.