Queen of the South in dreamland after Rangers victory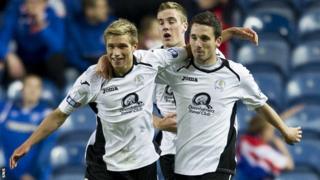 We woke to find the streets still looked the same.
And, as we rubbed our eyes over breakfast, we checked the morning papers just to be sure it really happened.
Queen of the South had defeated Rangers at Ibrox.
The last time they ever beat the Glasgow giants was in 1955 in the old Scottish Division One.
That was a year before Queens current assistant manager Sandy Clark was even born.
And the Doonhamers' last away triumph over Rangers came in 1948.
In other words, it was something of a historic result.
For most media outlets, of course, the focus has been on the demise of Ally McCoist's men.
They have gone from playing Champions League football to being dumped out of the Ramsdens Cup by a Second Division side.
But in south-west Scotland, it capped the most remarkable start to a season most people can remember.
The Dumfries side are undefeated in all competitions and have already claimed the scalp of SPL outfit Hibernian in the League Cup.
They sit top of the table and boss Allan Johnston has a well-deserved manager of the month award sitting on the mantelpiece.
It has been an incredible turnaround.
Last season, stepping through the turnstiles at Palmerston Park often felt like making a trip to the dentist.
You knew you had to do it but it was almost always going to be a painful experience.
Struggling at the bottom of Division One for the whole campaign they were ultimately relegated.
A sense of gloom hung heavily over the terraces at the Terregles Street end.
Supporters could only cling to the hope that the line in the Bible one club song celebrates would prove to be true.
"The Queen of the South will rise...".
And, so far this campaign, our prayers have been answered.
Barcelona is rightly proud of its development of young players but down in Dumfries we have our own homegrown heroes.
Kevin Holt, Ryan McGuffie, Dan Orsi, Willie Gibson, Danny Carmichael and Gavin Reilly are all local boys who have featured in the side this year.
They have combined well with the rest of the squad to produce some attractive football and also make fans feel like an old saying is actually true.
"Yer hame team is yer ain team," it proclaims.
Of course, those of us who have been watching football for a while are still waiting for the sucker punch.
Anyone who has followed Queen of the South for any length of time knows they shoot themselves in the foot more often than a cowboy with his gun glued to its holster.
But, in the meantime, we will savour a little piece of history and pore over the back pages one more time just to double check that Tuesday night was not just a figment of our imagination.