Anthony Cairns jailed over Annan party murder attempt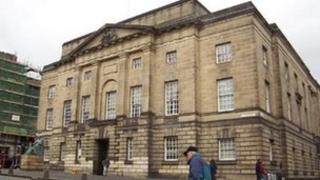 A 21-year-old who admitted attempting to murder another man at a drunken party in Annan has been jailed for six years and eight months.
A court heard how Anthony Cairns had almost killed Stuart Johnstone after stabbing him six times.
He admitted carrying out the attack at a house in Caledonian Crescent on 28 April this year.
Lord Pentland told Cairns, who has three previous convictions for violence, he had a "troubling record".
Passing sentence at the High Court in Edinburgh, he also ordered him to be monitored for four years following his release from prison.
Cairns, a prisoner in Dumfries, had earlier pleaded guilty to a charge of attempted murder.
At that hearing, the court was told how the violent confrontation took place during a party.
Prosecution lawyer Iain McSprorran said Cairns and Mr Johnstone knew each other, but the victim had refused to name his attacker or help police.
Internal bleeding
The court heard how the pair had been drinking at a house in Caledonian Crescent, Annan, with others when a row broke out and Cairns was asked to leave.
He returned and began fighting with Mr Johnstone in the garden.
When one of Mr Johnstone's punches cut his eye, Cairns pulled out a knife from his sock and stabbed his rival.
Mr Johnstone then headed for his father's house, dripping blood.
Paramedics found he had suffered wounds to his chest and abdomen, and his right arm had been slashed to the bone.
A doctor said he had been struck with a knife at least six times.
Mr Johnstone's injuries did not initially appear to be serious, but he later needed emergency surgery to control internal bleeding.
The court heard that without the operation, Mr Johnstone would have died.