Peebles homes safe as flooding subsides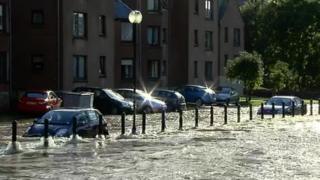 Most properties in a Borders town have escaped any damage after flood waters spilled onto the streets for a second day in a row.
Water levels on the Eddleston Water at Cuddyside in Peebles rose dramatically on Wednesday afternoon.
They reached a higher peak than they had on the previous day but homes were not affected by the floods.
Scottish Borders Council staff were on hand to put sandbags in position as the water levels rose.
A number of flood warnings for the area have now been lifted.
It is hoped that there will be no more significant rainfall which will allow river levels to continue dropping.