Desmond Scott given 10-year pet ban over cat death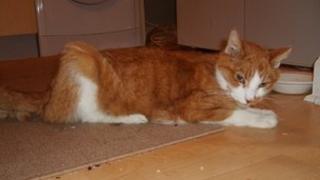 The Scottish SPCA has welcomed a 10-year ban on keeping pets which has been handed to a man whose cat died after he left it unattended for a week.
Desmond Scott, 55, admitted causing the cat unnecessary suffering by not providing adequate food, water and veterinary attention.
The Scottish SPCA said he had shown himself to be "completely unfit" to provide even basic care for a pet.
Scott, formerly of Bowmont Street, Kelso, was also fined £108.
He was sentenced at Duns Sheriff Court on Wednesday.
Senior Scottish SPCA inspector Jenny Scott said: "We were alerted by a letting agent who found Scott's cat alone and in poor condition in his property in February.
"He was so weak he couldn't stand up without falling over and he was underweight, with his spine and hip bones clearly visible.
"There was no food or water available and he appeared very dehydrated."
She took the cat to the vet, where it was found to be severely underweight.
"He was put on a drip to help him rehydrate but, sadly, he died through the night," she said.
"This was a tragic outcome and we are pleased that Scott has received a ban on owning animals, as well as looking after them.
"In our opinion, Scott has demonstrated he is completely unfit to provide even the most basic care a pet requires."