Nepal plane crash: Scottish resident Darren Kelly among victims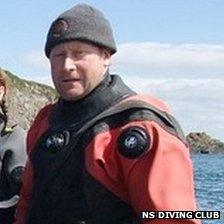 One of the seven Britons who died in a plane crash in Nepal is believed to have lived in Scotland.
The victim has been named locally as Darren Kelly, 45, a property developer and businessman from Isle of Whithorn in Dumfries and Galloway.
Mr Kelly - originally thought have been from Lostock in Bolton - moved to the village several years ago and renovated properties for holiday lets.
He is believed to have perished in the air crash with his brother Vincent.
Residents of the Isle of Whithorn described Mr Kelly as a "first class guy" who had done a lot for the area.
A friend, who asked not to be named, said Mr Kelly and his older brother Vincent Kelly had been on a trekking exhibition to Everest when they died.
Mr Kelly moved to the Isle of Whithorn after visiting the south of Scotland.
"He had been a holidaymaker to the area for many years, and he was gradually moving himself here for retirement," his friend said.
"He was originally from Bolton and also lived in Stockport before moving here a few years ago.
"He owned a number of flats in the area which he had developed as holiday homes.
"Darren was just a really nice bloke - you would struggle to find anyone who could say anything bad about him."
Another resident of the town, who also asked not to be named, said: "I was shocked when I saw it on the news.
"You don't want anything bad to happen to anyone you know.
"He really was a nice person and he's done a lot for this area."
Mr Kelly's brother, Vincent, was a long-standing supporter of the Bolton Lads and Girls Club.
His friend Mark Brocklehurst, also a member of the club, said: "We are devastated to hear the news of the deaths of Vincent and his brother Darren.
"It is a terrible tragedy that has seen us lose a wonderful powerhouse of a man, leaving us numb.
"There aren't enough words to describe just how wonderful Vincent was - a dedicated family man with a generous heart of gold who was a perfect role model."
The Sita Air plane came down minutes after take-off from Kathmandu, claiming the lives of 19 people.
The Foreign Office said the Britons' next of kin had been contacted.
The Press Association identified the Britons, quoting local travel company Sherpa Adventures, as Raymond Eagle, 58; Christopher Davey, 51; Vincent Kelly, 50; Darren Kelly, 45; Timothy Oakes, 57; Stephen Holding, 60; and Benjamin Ogden, 27.
Aviation accidents involving small aircraft are not uncommon in mountainous Nepal.
In May, 15 people were killed when a plane crashed trying to land at an airport in the north of the country.
And in September 2011, 19 people were killed when a Buddha Air plane crashed during a flight to view Mount Everest.
Related Internet Links
The BBC is not responsible for the content of external sites.