Scottish Borders A68 speed cameras attacked with saw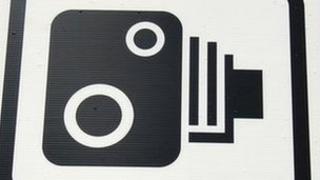 Vandals have used a saw to attack two speed cameras along the route of the A68 in the Scottish Borders.
The devices are located at Birkenside just north of Earlston and at Headshaw near Oxton.
Police described the incidents as "highly dangerous" as the vandals could have been electrocuted and had left the sites "hazardous to other people".
Speed cameras have regularly been set alight in the region, with at least 19 set on fire since 2004.
Police say the equipment has helped to reduce the number of deaths and serious injuries on the route.
Insp Brian Macfarlane appealed for anyone who saw anything suspicious to contact the police.
"It could be that a passing motorist witnessed what they thought was a maintenance vehicle servicing the camera and this might not have been the case," he said.
Scottish Borders Council's executive member for community safety Donald Moffat condemned the vandalism.
"If a camera has been installed at a specific location, it is there for a very good reason - to prevent accidents and deter motorists from speeding," he said.
"The person who has carried out this dangerous act, twice now, is putting everyone who uses the A68 at a greater risk of being involved in what could be a serious collision."