How do book towns survive in the age of the e-reader?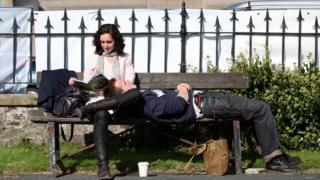 Wigtown was named as Scotland's national book town in the late 1990s but the publishing world has changed completely since then. Is a collection of second-hand book shops still a draw in the era of the e-reader?
It seemed like a literary holy grail at the time.
Wigtown beat off competition from Gatehouse-of-Fleet, Moffat, Dalmellington, Dunblane and Strathaven to secure the sought-after position as Scotland's book town, based on the model adopted so successfully by Hay-on-Wye.
But as the town's annual book festival draws to a close, much has changed.
Most notably, the rise of the e-reader device has transformed the industry, with Amazon recently announcing it now sells more books for its Kindle than it does physical copies.
With such a change in the way people read, does being a book town still serve the purpose it first did?
And, if not, how does it adapt to such a radical change in circumstances?
Adrian Turpin, director of the Wigtown Book Festival, says it is, quite simply, the biggest thing to happen since the book town was born.
And he believes they cannot stand still.
"It is impossible not to come to the conclusion that the economic model on which book towns were set up has completely changed," he said.
"In 1997, the idea was that by having a collection of book shops this would be a magnet."
However, the days when second-hand book shops were the only place to find a book you could not get in a high street store are long gone.
"Any model that relies on that is obsolete," said Mr Turpin.
However, he says that does not need to mean the death of the book town any time soon.
"I think we have to really start rethinking what these towns are about and, to some extent, that is being done already," he said.
"I think the way forward for us is to think of a book town as not just about books as physical objects but as a place where ideas are traded - and not just literary ideas."
High profile annual festivals already achieve that goal.
But other means could be writing courses, mini-festivals and other events to draw people in.
"There was a time when second-hand book sellers in book towns were first of all selling books and secondly selling the experience of browsing," explained Mr Turpin.
"Now it is almost the other way around."
In the home of the founding fathers of the phenomenon in the UK, Hay-on-Wye, there are clearly mixed feelings about e-readers.
Earlier this year, one of the owners of Addyman Books, Derek Addyman, started a publicity campaign to ban the Kindle from the town.
He laid the blame for a number of book store closures at the door of the device.
However, Peter Florence, director of the Hay Festival of Literature and the Arts, is less convinced.
"E-readers tend to replace genre books you may not want to keep, and impulse buys," he said.
"The book town trade is based on holiday makers browsing, or collectors looking for special editions.
"It's a different market."
He said that could be a boost for the book towns.
"It's early days yet, but there's really interesting data coming from the Fifty Shades phenomenon that suggests that e-readers are restarting people into the book habit," he said.
"If you look at the music industry model, iTunes and Spotify may have knocked out HMV and Virgin stores, but there are more and more independent vinyl specialists in every town, and that's what Hay and Wigtown play to."
Back north of the border in Wigtown, Laura Mustian of Byre Books, said it might be too early to judge any impact of the e-reader.
However, she seemed upbeat about the book town's future.
"My own view is that anything that encourages reading can only be a good thing, that the electronic version will exist side-by-side with the real, and that the tactile, sensory appeal of the real book will win hands down in any long-term contest," she said.
"Second-hand books by their nature have stood the test of time, and book lovers will continue to seek them out.
"E-books, however convenient, are essentially ephemeral.
"Speaking to writers who have published in e-format - they say it is only when they hold a real copy of their book that their work feels validated."
For Laura Kvamme, vice-president of the International Organisation of Book Towns, the experience of Fjærland in Norway suggests e-readers might present new opportunities.
"What we see is that more customers buy second-hand books via the net instead of visiting the bookshops," she said.
"Our answer to this trend is, of course, to expand our net-sales in addition to keeping the bookshops open.
"I think the book towns will be even more popular in the future, as e-reading becomes more common.
"Holding an old book in your hand, and smelling it and leafing through it before buying, is something you can do most easily in a book town!"
Attendances in Wigtown over the last 10 days would also seem to suggest there is still enthusiasm for the concept.
So it should be a while before we need to write the final chapter for book towns.