Hawick firefighters save racehorse Kit Carson from stream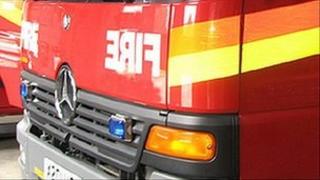 Firefighters in the Scottish Borders have rescued a former racehorse after it got stuck in a stream.
Crews from Hawick were called out to Midburn Farm Cottage in the town shortly after 16:30 on Tuesday.
They found the horse - known as Kit Carson during its racing days - trapped in a stream at the bottom of an embankment.
It took more than an hour to release it using airbags. Its condition has been described as "poorly but stable".
It is thought the horse had been in the water for some time but had not been noticed due to foggy conditions.
A spokeswoman for Lothian and Borders Fire and Rescue Service said: "Firefighters used specialist skills and equipment to free the horse from the stream.
"He was in a poor condition having spent some time in the water.
"A vet was standing by to advise and provide care once he was freed."
The 12-year-old gelding had its last race at Sedgefield in May when it was pulled up in a handicap chase.
It ran more than 40 national hunt races in total, winning four times and earning more than £40,000.
The Irish-bred racehorse finished its career with Robert MacDonald's yard in Hawick.