Deaf kitten found trapped in Tongland Dam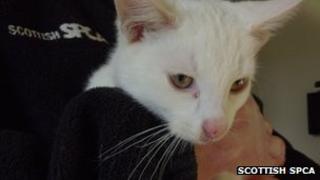 The Scottish SPCA is seeking the owner of a deaf kitten found trapped in the floodgates of a south of Scotland dam.
A staff member at the Tongland site near Kirkcudbright heard its distressed cries before calling a colleague to help release the animal.
The four or five-month-old white male kitten is recovering at Dunragit Kennels in Stranraer.
Kennels manager Peter Baker said the cat, named Thor, had been lucky to survive.
"If he had fallen into the water it's very unlikely he would have survived," he said.
"When he arrived in our care it became evident he is deaf as he didn't react at all when our smoke alarm was tested.
"Unfortunately, deafness is relatively common in cats with white fur."
He said the cat was "really hungry" when it was found and might have been straying for a while.
"He is an extremely friendly young chap so we think he has been a well-loved pet until recently," said Mr Baker.
"However, the dam is in quite a remote spot so we can't rule out the possibility he has been abandoned."