Innerleithen community vote backs mountain bike chairlift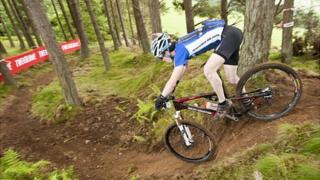 A community vote has found strong public support for £5.5m plans to develop a purpose-built mountain bike chairlift in the Borders.
A poll on the Innerleithen project secured a 66% turnout, with more than 90% in favour of the scheme.
Action group AIMUp said the result would allow its plans to progress.
The lift would be based at Innerleithen where, at the moment, riders have to push their bikes uphill before using its downhill courses.
AIMUp - which stands for Action on the Innerleithen Mechanical Uplift - wants to create a "21st Century facility" for the area.
It believes the service would be a major boost to the sport in the Tweed Valley, which attracts thousands of mountain bikers each year.
AIMUp director Ian Campbell said: "This ballot process was part of the overall process to try to secure or acquire forest land for our proposed uplift.
"Now we have a successful ballot, we can submit our application to the forestry commission to try and acquire the land.
"Separate to that we are also awaiting the decision for our application for planning in principle."
Mr Campbell said he was hopeful the outcome of that process would be known later this year.
The target is to open the chairlift some time in 2014.