Kelso Plexus plant sees jobs surge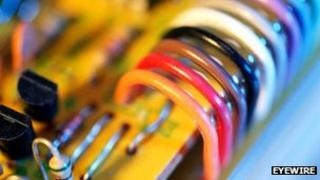 US-based electronics firm Plexus has created more than 50 new jobs at its factory in the Scottish Borders.
The workers have been hired for its site at Pinnaclehill Industrial Estate in Kelso in the past three months.
The company, which has its headquarters in Wisconsin, said recruitment had been across a range of the business.
Frank Zycinski, general manager of Plexus Manufacturing Solutions Kelso, said the move had been "driven by increasing demand" from UK customers.
"This facility continues to be an important part of Plexus' strategy in Scotland and the growth demonstrates our continued commitment to developing engineering and manufacturing opportunities in the region," he said.
Plexus Manufacturing Solutions Kelso currently has 350 employees.
The company has 18 manufacturing sites and six design and engineering sites in Europe, the USA and Asia. It employs almost 8,000 people.
Kelso councillor Simon Mountford said the job increase was a vote of confidence in the local workforce.
He said: "Plexus has a well-earned reputation in its field and it is encouraging that a company of this calibre continues to invest in the Borders."
A spokesman for the Scottish Borders Chamber of Commerce said it was perhaps a sign of "green shoots appearing on the economic horizon".
"It is especially good for us in the Borders with so many new jobs being created," he said.
"This news, plus the decision by Chanel to take over Barrie Knitwear's business in Hawick indicates that major manufacturing business has confidence in the Borders."