Dumfries tastes international ice hockey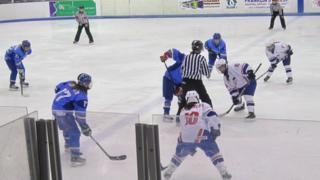 It is not every day the Italian national team comes to town.
And for someone as proud of his ancestry as I am, it really does not matter what sport they might be playing.
So, when the International Ice Hockey Federation's Under-18 Women's World Championship qualifying matches came to Dumfries Ice Bowl it was an opportunity I could not let slip.
My father, my son and I wrapped up warm to watch Le Azzurrine (the Little Blues) in action.
And what better game than against our old Transalpine enemy, France?
The omens, I admit, were not good for enjoyment.
I had previously found the sport a bit too stop-start for my liking and feared my evening might feel a lot longer than its three 20-minute periods.
In addition, France went into the game undefeated while the Italian girls had just a narrow win over China to their credit along with a game forfeited by Kazakhstan due to their late arrival.
The atmosphere - in front of a crowd thinner than my hair - was less than intense.
But we unfurled our Tricolore nonetheless and prepared for battle.
What followed was about 100 times more enjoyable than I had expected.
In a backs-to-the-wall performance their male footballing counterparts would have been proud of, the Italian girls soaked up some early French pressure and powerplays.
And then, in the third period, Anneke Orlandini skelped a smacker of a shot which we watched all the way as it flew into the top corner.
"Rete!" my father cried. "Goal!"
And our little trio of Italian fans leapt to its feet.
There was more defending to be done - the records show Italian goalkeeper Daniela Klotz made 41 saves in total - but the girls in blue held on.
Singing the national anthem at the end of the game and giving the players high-fives on their way off the ice was a cracking conclusion to the day.
Fast and furious
A chat with the Italian manager who came over to talk to our small band of supporters during one break in play was also the kind of treat few "bigger" sports can offer.
So, in the end, I was quite glad I had got off my office chair and made the effort to go to the match.
The action was fast and furious and the level of play was pretty impressive to my inexpert eye.
I can still remember how hard it is just to stay upright on a set of skates, never mind chase a puck and wield a stick with any accuracy.
And - before you ask - there were none of the fights so often seen in men's ice hockey matches.
My game deserved a bigger audience, but Great Britain drew in better crowds as they narrowly missed out on a top-two finish behind France and Slovakia.
It seems Dumfries got good reviews for the facilities and organisation of the six-day competition.
So it may be that south west Scotland sees more international ice hockey in the years to come.
And, after my experience, I could heartily recommend braving the chilly conditions to catch a bit of the action.