Robert Thornton admits Scott Johnston death crash charge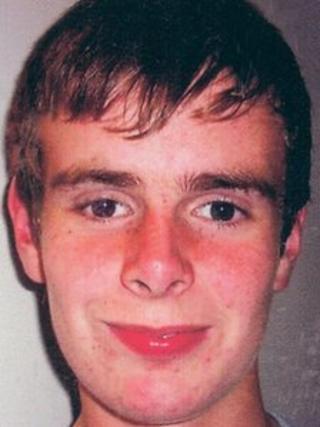 A teenager has admitted causing the death of his best friend by careless driving on the A697 in the Scottish Borders on New Year's Day.
Robert Thornton, 18, of Lauder, also admitted being uninsured to drive his great uncle's Mitsubishi Evo.
Scott Johnston, 18, of Earlston, died as a result of the crash near Westruther while Thornton spent three months in hospital with his injuries.
At Duns Sheriff Court, sentence was deferred for background reports.
The court heard how Thornton gave Jock Threadgall, 52, a lift to the pub on New Year's Day and picked up Mr Johnston on the way back for a ride in the Mitsubishi.
He was uninsured to drive the vehicle and shortly afterwards crashed the car into a tree.
Scott, who was in the passenger's seat, was killed while Thornton spent the next three months in hospital recovering from life-threatening injuries.
Defence lawyer Ray Megson said his client did not remember the accident and had had to be revived and resuscitated twice in the car and ambulance.
"The prognosis was not good and his mother was told to expect the worst but he has made a remarkable recovery although he will not fully recover for sometime yet," he said.
'Terrible situation'
He added: "He has shown no form of emotion but says that if he could have his time again he would wish he was dead and not his best friend."
Mr Megson said he would complete his mitigation at the next hearing on 19 December after Sheriff Kevin Drummond indicated he would be calling for background reports.
The sheriff told Thornton: "You are a young man with no previous convictions and have not come to the adverse attention of the authorities and here you are facing this terrible situation."
Tessa Bradley, prosecuting, said the vehicle involved in the fatal accident was owned by Threadgall.
He had met Thornton by chance shortly after 17:30 after being out in Lauder celebrating with friends on New Year's Day and asked for a lift home in the teenager's Vauxhall Corsa.
Ms Bradley said Threadgall - a former professional rally driver - then decided to go to the pub in Westruther and agreed to allow Thornton to drive the Mitsubishi.
She added that after the car owner was dropped off, Thornton went back to Threadgall's house and asked Scott if he wanted a shot in the car to which he agreed.
She said that following investigations no defects were found with the car which could have caused the collision and it had recently passed an MOT.
Threadgall, a blacksmith and farrier in Lauder, appeared at Duns Sheriff Court last month and pleaded guilty to causing Thornton to use the vehicle without third party insurance in place.
He was fined £200 and had his licence endorsed with six penalty points.