Why become a British citizen?
By Cameron Buttle
BBC Scotland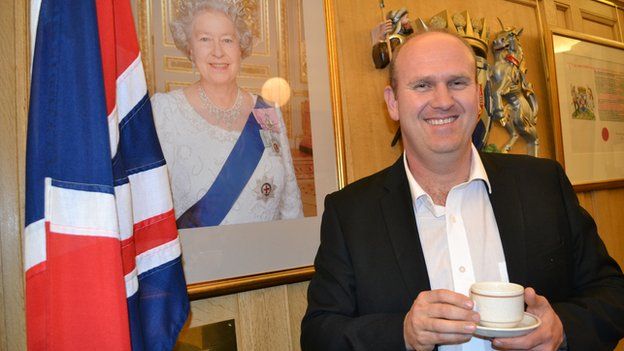 Why would someone born in South Africa want to go through the British citizenship process? I went along to a citizenship ceremony to find out.
Michael Dalrymple is an engineer from Mpumalanga, formerly known as the Eastern Transvaal, in South Africa.
He's worked all over the world and for the past few years has made his home near Melrose in the Borders.
Last week Big Mike, as he is affectionately known, finally became a British citizen.
"I've been waiting years for this, it's taken a lot of work and a lot of money to finally get to this day," he said.
I was interested in the progress of Mike's application, particularly as I was born in Cape Town myself, and once considered applying for dual nationality with South Africa.
When Mike was told he was successful in the UK, he invited me along to his citizenship ceremony as his guest.
As we followed the officials through the corridors of Scottish Borders Council offices, I admitted to Mike that I had tried and failed a mock British citizenship test that afternoon.
Badly. I only got 46%, the pass mark is 75%.
Kindly Mike said he was sure I would have done better if I'd studied a bit.
In the main chamber the new citizens-to-be sat in the front row, staring up at a portrait of the Queen flanked by a union flag.
Lord Lieutenant Major Alexander Trotter was there to represent the monarch.
Mike was taking the oath alongside his daughter Emma and youngest son James.
His wife Sarah has British parents and grandparents, their other son William was born in Edinburgh nine years ago.
So why did he apply for British citizenship?
"There were two reasons, firstly it makes it easier to travel around the world, to get visas when I have to work abroad," he explained.
"But mainly it's because our future is here in Britain.
"This is where my family will make its future."
He described it as the "end of a long road to get British citizenship".
Mike, Emma and James decided to make their oaths of allegiance together. Reading deliberately and carefully from a card, then receiving a hearty round of applause on completion.
"That was more emotional than I thought it was going to be," Mike said, with a beaming smile.
The ceremony was hosted by the council convener Graham Garvie who addressed the new British citizens.
"Becoming a citizen of the UK is a very big step which brings with it very important rights and responsibilities," he said.
"The Scottish Borders is an area of particular cultural richness and heritage, and our communities throughout the 1,800 square miles of our area are strong and thriving, and are continually being strengthened and enlivened by the settling of new folk such as you."
Afterwards Mr Garvie told me how much he enjoyed the ceremonies.
"People get very emotional," he said.
"In the old days it used to be a matter of a letter dropping through the letterbox.
"This is much more appropriate, it means a lot to people."
As the ceremony came to a close the national anthem was played, a recording made specially for Scottish Borders Council by the band of the Coldstream Guards.
Now it was my turn to feel nervous.
If it went to a second verse, I was pretty sure I'd be the only person in the room who would not know the words.
Send in your suggestions for stories from the Borders via email to selkirk.news@bbc.co.uk or via Twitter to @BBCScotSouth.
Related Internet Links
The BBC is not responsible for the content of external sites.