Hawick project revives holy music from the Middle Ages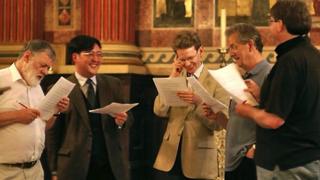 Medieval music which has not been heard for hundreds of years has been performed in the Borders. But what does holy music from the Middle Ages sound like?
I like to think my musical tastes are pretty broad.
A slice of most genres can be found somewhere in my collection.
But how would a self-confessed 1980s boy adapt to stepping back 800 years to the 1180s?
I bravely crossed the frontier from Dumfries and Galloway into the Scottish Borders to find out.
For in Hawick - the land of rugby, textiles and ball-shaped sweeties - an important musical discovery was made recently.
A fragment of medieval music was found a few years ago at the town's Heritage Hub by the then archive manager Rachel Hosker and her staff.
It dates back to the 12th century and was probably last performed about 450 years ago.
Dr Matthew Cheung Salisbury, lecturer in music at University College Oxford, was called in to help identify the manuscript and assess its significance.
"It is never easy to come immediately to a sense of where a manuscript, seen for the first time, may come from, or what purpose it might have served," he explained.
"It's a bit like discovering an old postcard or letter and attempting to decipher the handwriting, the archaic language, and the clues to where it might have been sent from - and it is very much as personal a task.
"I should point out that the survival of any readable, usable material from the Middle Ages is a great bonus for all of us who work on music of the period, and new finds like this one are not very frequent, especially in local history archives."
He described the Hawick find as "valuable cultural evidence for our understanding of the people and institutions who preceded us".
And he is keen to stress that it was not simply the preserve of the monastery.
It was, in a couple of senses, the music of the masses.
"This is not just music for monks in exalted, secret places," said Dr Cheung Salisbury.
"It is music that was sung in parish churches by ordinary lay people as much as in monasteries and convents.
"This is the origin of all the sacred music that follows."
The fragment of medieval music found in Hawick is one bifolium - two joined leaves - of a larger manuscript, a notated missal - one of the books used in the celebration of the medieval mass.
"Most importantly it contains plainchant and texts for the Palm Sunday procession, part of the most important week of the Christian year," said Dr Cheung Salisbury.
"The music of the fragment is 'monophonic', that is, it consists of a single melody sung in unison by all, a feature which immediately makes it stand out, but also a style which betrays its origins as coming from within the very cradle of Western sacred music."
But what, exactly, does it sound like?
"Some think chant is calming and meditative, others find it repetitive and bland, but it never fails to elicit thought and opinion," said Dr Cheung Salisbury.
As for me, I admit, I was probably somewhere in the middle.
There is something eerie and yet evocative about those chants which have echoed down the centuries.
They are not the kind of thing I will be sticking in my personal collection any time soon, but they have a soothing and spiritual feeling.
It is not so hard to imagine the important role they would have played in religious ceremonies from centuries ago.
And there are exciting plans which have grown out of the discovery of the Hawick missal fragment.
The first was a public performance of the music in the town this week.
The events will run right through to Easter 2014 as part of the project which has been entitled Fragments.
It will include a series of four public events in and around the Border abbeys.
More "intriguing and innovative art and music interventions at sites throughout the Borders" are also promised.
And a competition for young composers inspired by the discovery has just been launched.
A chance find has been turned into an opportunity to explore both the historical origins of the missal and how such music of worship has developed through to the 21st century.
It is not the kind of tune to have you nodding your head or tapping your toes.
But it has a relaxing and, when heard live, has a moving and timeless quality.
I would not expect it to be remixed by a rapper any time soon. But, then again, stranger things have happened.