Whitesands crackdown in Dumfries netted 46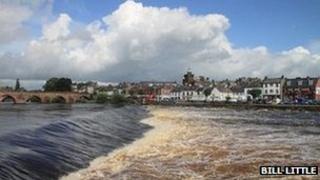 Police have revealed that 46 people were reported to the procurator fiscal during a crackdown on alcohol-related disorder in Dumfries.
The campaign was launched in response to public concern about drinking on the Whitesands riverside area.
Police said they took a zero tolerance approach during the operation, which ran from June until August.
The focus was on individuals who consistently misused alcohol and congregated on the Whitesands.
The aim was to address the fear and alarm caused by drink-related anti-social behaviour.
In total, officers reported 46 individuals to the procurator fiscal in connection with 71 offences.
One of those reported is now subject to an anti-social behaviour order and letters have been sent to 14 others warning of similar sanctions if they continue to gather in the waterfront area.
In a report to councillors, Ch Insp John Thomson said it was hoped that placing the most problematic offenders in the criminal justice system would help reduce the number of public orders offences recorded on the Whitesands.