Man seriously hurt in wedding day horse carriage crash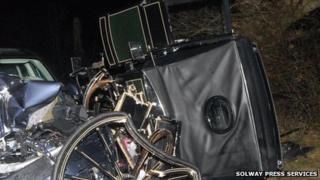 Four people have been hurt in a crash between a car and a horse-drawn carriage carrying a wedding party.
It happened on the A710 close to the Mabie House Hotel, in Dumfries and Galloway, at 14:10 GMT on Saturday.
The driver of the carriage, Simon Millar, suffered serious injuries. His daughter Hannah, 18, was released from hospital after treatment.
The carriage was also carrying bride Donna Pennycuik, 29, and her father 45-year-old father Lawrence.
They both suffered minor injuries and were able to return to the wedding after being treated at Dumfries and Galloway Royal Infirmary.
Mr Millar, 45, was said to be in a serious but stable condition in the hospital.
A vet attended the scene and treated the horses for minor injuries.
A spokesman for Dumfries and Galloway Constabulary said: "We believe the wedding went ahead, but the police inquiry is focusing on the crash."
A road closure was in place while police investigations were carried out.
Police appealed for anyone who saw the carriage or a blue/grey Honda CRV travelling between Dumfries and the Mabie Forest turn off prior to the crash.