Creative Scotland backed by Dumfries and Galloway artists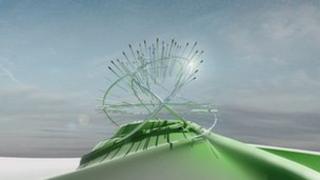 Artists and supporters of the arts in Dumfries and Galloway have added their voices to the row over Creative Scotland - by backing the funding body.
Matt Baker, Cathy Agnew and Jan Hogarth are among those who say cultural life is strong in rural areas, but their voices are not being heard.
It is the latest in a round of public letters about funding in Scotland.
It was released shortly before it emerged Creative Scotland chief Andrew Dixon is to step down in January.
The Dumfries and Galloway artists and supporters of the arts are backing the funding body.
They say cultural life is booming in rural areas like their own, largely thanks to the productive relationship with Creative Scotland.
They point to festivals in Wigtown and Creetown, artwork in the Dark Skies park and collaborations between artists and scientists among other projects.
The Star of Caledonia public artwork to mark the Scotland-England border at Gretna also recently won Creative Scotland support.
It awarded the project development funding in order to work up a bid for £1m support.
Last month, more than 100 artists signed an open letter criticising the body.
This week its board will meet to decide what changes it should make.