Margaret Kerr unit in Melrose artworks taking shape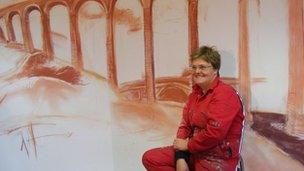 Artists are now busily at work in the soon-to-be-opened Margaret Kerr Palliative Care Unit at Borders General Hospital near Melrose.
The facility is scheduled to admit its first patients early in the New Year.
The entrance area will feature a giant drawing, in pastels, of the iconic Leaderfoot Railway Viaduct over the Tweed.
It's the work of Edinburgh-based artist Kate Downie.
She explained: "I was down staying in Melrose Youth Hostel a number of years ago and discovered this bridge.
"I completely fell in love with it."
The Tweed also features in a very different work by Keiko Mukaide.
Originally from Japan, she now lives in Edinburgh.
Her creation, in the main corridor at the Margaret Kerr Unit, is, in part, a tribute to her late father who died from cancer seven years ago.
She explained about the material she has used.
"Japanese traditional houses have paper screens with mica paint which is a very subtle medium, giving a shiny appearance to recreate the pattern of the water," she said.
Lasting Impressions is a mosaic of handmade tiles created by Jedburgh-based artist Clair Norris.
Each tile has been imprinted with fabrics and objects, brought in by Borderers early in the year, that give it texture.
The tiles are being built up into hexagonal panels flowing across the wall of a day lounge in the new palliative care unit.
The layout will portray the Borders' rolling hills and rivers, and the patchwork of fields.
And the final piece of artwork will be a sculpture of lambs on a rock created by Angela Hunter.
Related Internet Links
The BBC is not responsible for the content of external sites.