Currie Group yard raid attempt probed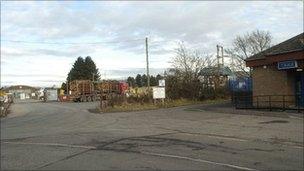 Police have launched an investigation into a failed raid on a lorry compound in Dumfries where whisky worth £250,000 was stolen nearly three years ago.
The incident happened at the Currie Transport Group yard on Sunday.
The Heathhall compound was targeted at about 01:30 in what is believed to have been an attempt to steal a trailer pre-loaded with goods.
The would-be thieves managed to drive a lorry cab past security but fled without taking anything.
Their vehicle was spotted before it was able to hook up to any of the trailers being stored within the complex.
The white DAF tractor unit was subsequently driven off and later found abandoned a short distance away in a lane near Townfoot Farm at Amisfield.
Police said they wanted to hear from anyone who was in the area around the time and who may have seen anything suspicious.
It comes almost three years after a raid made off with two lorry loads of whisky from the yard in February 2010.
The trailers were later found empty in the north west of England.
Related Internet Links
The BBC is not responsible for the content of external sites.