Margaret Kerr unit in Melrose admits first patients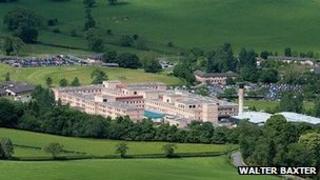 The first patients are being admitted to a palliative care unit in the Borders named after a nurse whose bequest kick-started the project.
The Margaret Kerr Unit was also the subject of a public fundraising drive to raise £1m towards the costs.
The £4.1m facility, sited at the Borders General Hospital, is the first of its kind in the region.
A bust of Ms Kerr, from West Linton, stands in the reception area to mark her contribution to the scheme.
She died in March 2009 but left more than £500,000 in her will to help fund the project.
She stipulated that any project must have the support of the medical and nursing community in the Borders.
A public appeal to raise £1m was launched in September 2011 and reached its target late last year.
The project has been taken forward by NHS Borders in conjunction with a range of charities and other groups.