Scottish lamb: Farmers concerned over foreign supermarket stock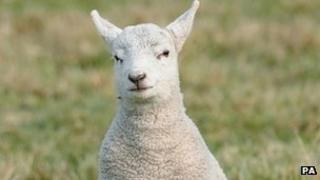 Farming leaders have raised concerns about the amount of foreign lamb found by secret shoppers sent to supermarkets in the Lothians and Borders.
NFU Scotland carried out the checks at Tesco, Asda, Sainsbury's, Morrisons and Marks and Spencer stores.
President Nigel Miller said sheep farmers needed a "confidence boost" that their product was "valued".
He said a "retailer commitment" to Scots lamb could help drive an improvement in the industry's fortunes.
The union said it was a "hugely challenging" for sheep farmers with sales slow in autumn and no pre-Christmas rise in prices.
It has been carrying out regular checks on supermarket commitment to home produced lamb over the past six months.
It found Morrisons had continued to stock only Scottish or British lamb.
The union also highlighted branding efforts by Marks and Spencer and Sainsbury's.
However, it criticised Tesco and Asda, which it said had "some Scottish or British produce" but still had "substantial quantities of New Zealand and Australia lamb".
Mr Miller said: "This is a time when sheep farmers need a confidence boost from their major customers - the UK supermarkets - with a clear signal that their product is wanted and valued.
"Morrisons show what can be achieved with 100% commitment to Scottish or British produce in the stores we visited, with packs of lamb being sold at shop shelf prices that are comparable to its competitors.
"That contrasts starkly with the volume of New Zealand and Australian lamb that has stubbornly remained on the shelves of Tesco and Asda even during our peak marketing season in Scotland, when our lamb is at its freshest and tastiest."
He said there was a "genuine opportunity" for supermarkets to increase their stocks of Scots lamb.
"With lambing only a few months away, that would send out a positive signal to producers and help lift some of the gloom generated by one of the more difficult seasons on record," he said.
A Tesco spokesman defended the company's policy on which lamb it stocks.
"We are committed to offering our customers the best local and regional produce Scotland has to offer," he said.
"That includes stocking 100% Scotch lamb in our Finest range in our Scottish stores, from June to December, when Scotch lamb is in season and using Scotch lamb year-round for our core Tesco-branded lamb products."
A statement from Asda said: "We are committed to buying Scottish lamb wherever we can - in fact around 60% of our current range is from Scottish farms."