Beattock crash claims woman's life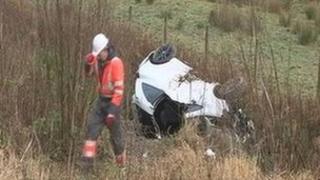 A 46-year-old woman has died in a single-car accident on the A701 road near Beattock in Dumfries and Galloway.
Police reported the incident at Marchbank Woods shortly before 10:00.
The road was closed for a time while investigations were carried out but it has since reopened.
A 20-year-old man who was driving the vehicle was taken to hospital with minor injuries and was expected to be released soon.
The accident involved a white Vauxhall Corsa.
Anyone who witnessed the incident has been asked to contact police.