Snow and ice warning for parts of Scotland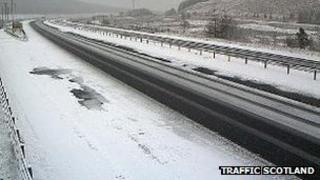 Weather warnings are in place for snow and icy conditions across many parts of Scotland over the next few days.
Wintry showers began in the north east of the country on Saturday and spread overnight.
The Met Office has issued yellow "be aware" warnings for most areas on Sunday.
By Monday "significant accumulations" of snow are expected, even at lower levels, with the potential for some travel disruption.
An alert for Saturday covered Grampian; Central, Tayside and Fife; the Lothians and the Scottish Borders.
There were some wintry showers in higher parts of the Grampians and in Aberdeenshire, with temperatures struggling to get above freezing in Inverness and the surrounding area.
A warning for snow for Sunday extends to include Strathclyde and the Highlands and Western Isles, with rain, sleet and ice also forecast.
A second band of wintry weather is expected to sweep across parts of Scotland on Monday and could bring about 5cm of snow, with more in higher areas.
The public has been advised that travel could be affected.
On Friday a meeting was held, involving road operating companies, Transport Scotland officials and the Met Office, to discuss transport preparations for the weekend and early next week.
Transport Minister Keith Brown said: "After a mild spell the Met Office say we are now heading back into colder conditions. That means drivers will have to be on their guard more than ever, especially when driving in freezing conditions.
"A number of improvements have been introduced to help inform decision-making. This includes having more salt in stock or on order than ever before, additional gritters and specialist equipment, new weather stations and cameras, and improved communications.
"The Traffic Scotland Control Centre continues to monitor the travel situation very closely. The Traffic Scotland website, variable message signs and internet radio will be used to provide up-to-date information."
To access more information, from your mobile, visit the BBC Weather and BBC Travel News sites.
The enhanced content on this page requires Javascript and Flash Player 9
Map Key
Land
Cloud
Lakes, Rivers & Sea
Fog
Light
Heavy
Frost
Light
Heavy
Pressure Fronts
Cold
Warm
Occluded
Rain
Light
Heavy
Extreme
Snow
Light
Heavy
Temperature tab only
Temperature (°C)
More details from BBC Weather