Glasgow, Greenock and Annan arrests in wedding day operations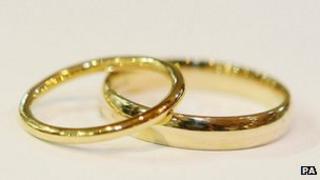 Six people are due to be deported after a series of UK Border Agency operations at registration offices in Scotland.
They took the action at sites in Glasgow, Annan and Greenock between Monday and Thursday.
In one case it emerged that the would-be groom had paid his intended bride £1,000 to marry him.
A UKBA spokesman said anyone seeking to evade immigration laws should "take heed" of the operation and expect to be found and removed from the UK.
The first operation, on Monday, took place at Park Circus in Glasgow.
A 32-year-old Nigerian man was attempting to marry a 31-year-old Slovakian woman when he was arrested and detained on suspicion of immigration offences before the marriage could take place.
When officers questioned the couple it emerged the man had paid the woman, who has an address in Wolverhampton, to marry him.
In Annan on Tuesday, a 25-year-old Pakistani man was arrested as he attempted to marry a Bulgarian woman of the same age.
Two other Pakistani men, aged 20 and 28, were also arrested, and all three were detained on suspicion of immigration offences.
Finally, on Thursday in Greenock, a 23-year-old Pakistani man was arrested before he could take part in what he admitted was a sham marriage to a 25-year-old Czech woman with an address in Glasgow.
A 25-year-old Pakistani man who was a guest at the wedding was also arrested.
Another guest at the bogus ceremony was served with a notice of potential liability on behalf of the Manzil Indian takeaway on Princes Street, Port Glasgow, for illegally employing the would-be groom.
The UKBA said steps would now be taken to deport all the people who had been detained.
Spokesman Adam Scarcliffe said: "The UKBA is working with colleagues at registration offices throughout Scotland and receives intelligence from a wide variety of sources.
"We will not hesitate to act against those who mistakenly believe that they can abuse the immigration system."