Stranraer slipway cost concerns surface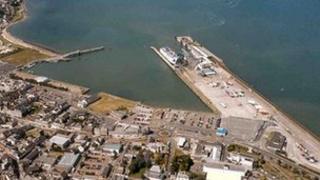 Concern has been raised about the proposed £1m price tag on proposals for a new slipway as part of Stranraer's waterfront regeneration programme.
One councillor branded the cost "excessive" and suggested using an existing slipway outside town.
The option is now to be the subject of a more detailed report.
Dumfries and Galloway Council said it was working with others to "reposition" the area as a "distinctive and successful marine leisure destination".
Plans to regenerate the south west Scotland town were drawn up after the final ferry left its port.
However, the proposed creation of a slipway as part of the marina development has proved contentious.
Wigtown West councillor Grahame Forster expressed fears that the cost would drain funds that could be used for the wider regeneration of Stranraer.
To counter the high costs, he suggested putting the decision-making process on hold to allow a report and business case to be prepared on the potential for using an existing slipway at Wig Bay - four miles out of the town.
His proposal - which was supported by Labour councillors - was initially batted away as "nonsense" and a "delaying tactic" by Conservative councillor Roberta Tuckfield who said it was essential agreement was reached to allow work to begin.
However, after further debate it was eventually agreed that Wig Bay would also be investigated as an option.
The council said other initiatives could go ahead and it plans to encourage anglers to the area with fishing points around Loch Ryan, and bird hides will also be placed around the waters' edge in co-operation with the RSPB.
A total of £100,000 is being ring-fenced and match-funding sought from the Heritage Lottery Fund to finance a townscape face lift scheme.
In addition, the entrances to Stranraer from the A75 and A77 will be given a facelift.
Meanwhile, Labour spokesman Colin Smyth secured agreement to ensure that all other potential regeneration projects remain on the table while work is carried out to identify possible funding.