Dumfries Peter Pan house project secures £1 land deal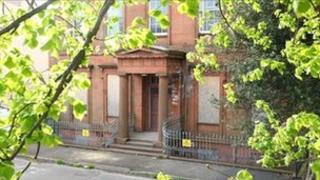 A land deal has been agreed towards plans to create a national centre for children's literature in a house that helped to inspire the Peter Pan story.
Dumfries and Galloway Council approved plans to transfer ground it owns near Moat Brae for just £1.
It will allow the Peter Pan Moat Brae Trust to take forward its overhaul of the Dumfries building.
Work is currently getting under way to begin the restoration of the house where JM Barrie played as a child.
The council owns land that runs alongside the River Nith behind Dumfries Academy.
It connects the secondary school where Barrie was educated to the gardens of Moat Brae, where he played pirate games with the children of the house.
He later revealed that the setting inspired his early ideas for the plot and characters that became Peter Pan.
The Georgian townhouse was later used as a private hospital before being abandoned and allowed to decay.
It is now owned by the PPMBT, which is spearheading a £4m scheme to restore and redevelop Moat Brae as Scotland's first Centre for Children's Literature.
The council has said it has no use for the land but recognised its importance to the project.