Dumfries DG One leisure centre: Council takes court action over faults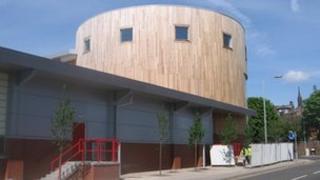 A council has started court proceedings seeking up to £6m to cover the costs of addressing a string of faults at a flagship leisure centre.
Dumfries and Galloway councillors agreed to take the action against Kier Northern, which built DG One.
Meanwhile, the council is putting in place arrangements for repair works to be carried out.
It will see the entire building - which opened in 2008 - closed to the public for several months.
The facility has suffered a number of disruptions to services since it opened.
That prompted the council to appoint independent experts to investigate and report on the causes of the problems.
The cost of addressing all the defects which have been identified is estimated at £3.7m.
In light of that, the authority's policy and resources committee agreed to initiate court proceedings against Kier to recover the cost of the work and all other "reasonable costs and losses".
Remedial works will start in January 2014 and see "dryside" facilities shut for about four months, with the "wetside" out of commission for a further 13 months.
The council said it acknowledged that the closure of DG One would have a "significant, negative impact on customers".
Council leader Ivor Hyslop said: "We are all extremely disappointed and frustrated with the situation with DG One.
"The council is now taking the necessary steps to address the issues with the building.
"I look forward to receiving a number of reports in the up and coming months on how we are addressing these issues."
Nith Ward Labour councillor Colin Smyth said the scale of the problems at the centre was "breathtaking".
"Local people are now going to be inconvenienced by a long closure while repairs are being carried out," he said.
"It is hard to know how the council will provide an alternative to the swimming pool during the year-and-a-half it could be closed. However, one option to replace the hall whilst it is closed would be to reopen the Loreburn Hall.
"It is currently sitting empty and it is just around the corner from DG One."
'Swift' response
He said the priority for the council had to be putting in place alternative provision while the centre was shut.
A statement from Kier said: "Yesterday's meeting was the first time we have seen any value stated as to the extent of a claim from the council.
"We have always responded swiftly to any problems notified to us, and rectified all items that were our responsibility at our cost and within timescales agreed with the council.
"We are currently compiling a response to the alleged defects, which we are due to send to the council within the next few days, and we will continue to work with them to address and resolve any issues that are the responsibility of Kier."