Browns Food Group buys up Hall's meat brand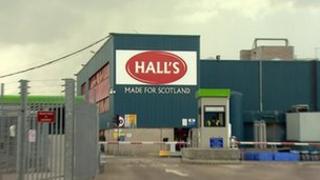 A Scottish food firm has agreed a deal to buy the Hall's brand from its Dutch owner Vion.
The purchase by Kirkconnel-based Browns Food Group does not include production facilities but sees 50 jobs retained.
Vion confirmed the closure of the Hall's meat factory in West Lothian with the loss of 1,700 posts last year.
Browns Finance Director Alan Hill said it was pleased to have brought one of the country's best-known brands under Scottish ownership.
"It is especially fitting that we agreed the deal so close to Burns Night, as Hall's is one of the world's largest suppliers of haggis," he said.
"We intend to invest heavily in the Hall's brand, and we will preserve and increase its reputation by offering food that is both good quality and good value.
"This will also lead to job creation and security going forward."
'Significant value'
Browns Food Group is one of the UK's leading food manufacturers.
The group operates from seven manufacturing sites in Scotland and England, producing and supplying an extensive range in cooked meats, ready meals, salmon, poultry products, convenience foods and a variety of delicatessen items.
Halls branded sausage and haggis products will continue to be made - but in Brown Group factories at Prestwick and North Berwick.
Halls van distribution operation will continue with 50 employees retained in that area.
A spokesman for Vion said: "Following their acquisition of the Hall's brand, we would like to wish Browns Food Group every success with their plans for the business."
The Dutch company is currently in the process of closing the plant at Broxburn in West Lothian with all the jobs expected to be gone by next month.
Finance Secretary John Swinney welcomed news of the deal.
He said: "We have always known that there was significant value in the brand and I am glad that it will continue with another great Scottish company.
"Browns are a fantastic business and I welcome their investment and new drive to make the most of the Hall's brand."