Man jailed for Eyemouth funeral parlour raid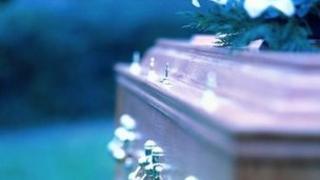 A drug addict has been jailed after breaking into a funeral parlour in the Scottish Borders and stealing a safe in order to fund his habit.
Lee Dougal, 33, of Marine Square, Eyemouth, was spotted by people living nearby after they heard him dragging a black box along the ground.
Police found him rummaging through the safe's contents.
He admitted the break-in and theft in October last year and was jailed for a total of 10 months.
Duns Sheriff Court heard that he told police officers he had "found" the safe.
However, he was searched and found to be in possession of £450 in cash and a bracelet.
Prosecutor Kate McGarvey said it was soon established that the David Martin Funeral Directors in Coldingham Road, Eyemouth, had been broken into and the safe removed.
Drug problem
She added a member of staff verified the contents of the safe and it was established Dougal had gained access by smashing a gable end window of the funeral home with shards of glass discovered on the floor.
Defence lawyer Mat Patrick said Dougal had a long-standing drug problem adding: "He did this out of desperation.
"He had no carpet or furniture in his house. Every penny was being spent on drugs."
Sheriff Derrick McIntyre told him: "To break into a funeral home is outrageous."
Dougal also admitted a charge of possession of heroin in December last year.