Scottish Borders Council signs up to data promise list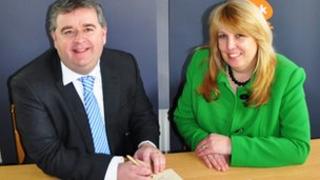 A council which was fined £250,000 after employee pension records were found in a supermarket car park has signed up to a string of data protection promises.
Scottish Borders Council has launched a campaign focussing on the importance of looking after information.
The authority was fined for its handling of staff data but has appealed against the scale of the penalty.
It has started the Think Information campaign.
It aims to "improve and strengthen" safeguards at the council.
As part of the campaign, council leader David Parker and chief executive Tracey Logan signed up to the personal information promise with the Information Commissioner's Office (ICO).
The signed document outlines 10 promises which the council has voluntarily shown it is committed to keeping as part of its role as a public authority.
Ms Logan said: "Data security and accurate information are key principles of our approach to information management.
"To ensure we follow these principles we have a range of policies and strategies in place.
"Through this project, we aim to ensure these principles are applied diligently throughout the organisation in an efficient way and with customer service, effective governance and transparency at their core."
Mr Parker said the promise was a way of showing people in the Borders their council was "absolutely committed" to ensuring it protected their information.
"Data and information are at the core of the council's business and this data and information are collected, processed and published using a variety of methods and are held in various formats," he said.
"Through this project, we want to ensure all SBC staff are fully aware of their legal responsibilities for making sure information is looked after correctly.
"We also hope to use this campaign to raise awareness of information management among our residents and will be making information available to Borderers over the coming months as well as our staff."