Innerleithen girl Rowan Rychel honoured for 999 call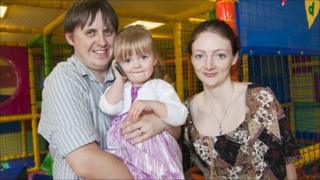 A Borders child who dialled 999 when her mother fell ill has been honoured by police for her bravery.
Rowan Rychel had just turned two when her mother Francesca lost consciousness and fell to the floor at their home in Innerleithen in September 2011.
She is one of a number of people who were recognised by Lothian and Borders Police at their Edinburgh headquarters.
A group involved in rescuing teenager Katie MacLean from Eyemouth harbour last June was also honoured.
The incident for which Rowan Rychel was recognised happened on 16 September 2011.
Her mother fainted and struck her head on a wooden cabinet.
The young child could not wake her and so she called 999 and told emergency services her mother was sleeping and would not wake up.
Police officers forced entry to the property and Ms Rychel was taken to hospital for treatment to a minor head injury and a dislocated knee.
Rowan, now three, collected a meritorious award from Lothian and Borders Police.
Presenting the honour, a force spokeswoman said: "The officer involved was taken aback by Rowan's amazing actions and there's no knowing what might have happened had she not made that emergency call.
"Rowan's a credit to her family and we're pleased to honour her."
The young girl's father, Robert, later spoke of his pride.
Recalling events that day, he said: "I got a phone call when I was at work in Edinburgh, an hour away.
"I got a call saying Francesca's had a fall, she's fainted, she's bumped her head and hurt her leg but it's okay, Rowan phoned the police.
"There was a stunned silence from me for a second.
"She'd phoned them up and said: 'Mummy's sleeping, mummy won't wake up', which was enough to trigger alarm bells and send someone round."
'Really chuffed'
Mr Rychel added that he was "really proud" and "really chuffed" for his daughter.
"She's always been really bright since she was very young," he said.
"We told her at the time she'd been very clever and she was a good girl."
The Borders girl was one of more than 30 recipients of awards from Lothian and Borders Police.
Also recognised were the members of the public and police involved in rescuing Katie MacLean from Eyemouth harbour last year.
She had been trying to help pull a friend to safety when she too was swept into the sea.
It was the last meritorious awards ceremony before the launch of the single force Police Scotland in April.