Dumfries curlers retake world record for longest match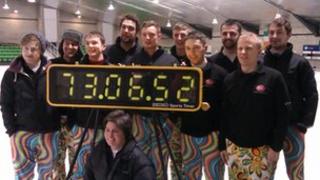 A group of curlers from Dumfries are once again world record holders after playing the longest continuous match.
The group played for 73 hours 6 minutes and 52 seconds, beginning on Friday night and completing their game on Sunday.
Ten competitors beat the previous record, set by a Canadian rink, by 11 and a half hours.
The mammoth game, at Dumfries Ice Bowl, also raised funds for the club and to develop curling in the area.
In a statement posted online, the curlers thanked all those who supported them during the attempt, including members of the public who turned up to offer support and supplies.
'Hats off'
The statement said: "Particular thanks to Stewart Robertson, Linda Owen, and Allison Whyte for making sure we ate, drank and woke up! Also to Margaret, Liz and Lorraine for the support on and off the ice.
"Thanks to the witnesses who are a huge part of ensuring it's all recorded completely, sitting in a cold box at 3am was a big ask!
"To curl obviously required ice, but good ice made the whole thing easier so hats off the the Ice Bowl staff for producing good ice constantly through the event and for tidying up after us."
The winning team was made up of Chris Jardine, David Owen, Thomas Sloan, Chalmers Porteous, Graham Black, Graham Sloan, Neil Henderson, Ruaraidh Whyte, Scott Robertson, and Stuart Henderson.
In October 2012 the Dumfries group lost their world record to a team from Campbell River in Canada.