Evie Cloy, 8, becomes Creetown town crier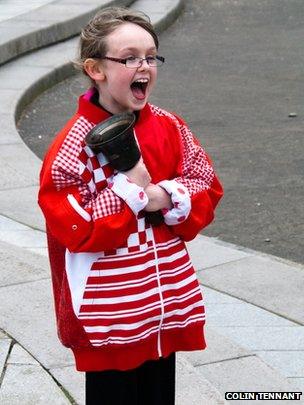 An eight-year-old girl has been selected as the first town crier for a south of Scotland town in more than half a century.
Evie Cloy was picked for the role after auditions held in Creetown's Adamson Square.
Judge Allan Lowden said: "Evie might have been the smallest contestant but she definitely had the biggest voice."
Organisers of the competition, The Stove artists' collective, believe she is the youngest town crier in Britain.
She will take part in a number of events being organised in the coming months.
Also included in her prize is a special town crier jacket designed by artist Lisa Gallacher.
"There hasn't been a town crier in Creetown for 51 years, so I love my new job," said Evie.
The Stove artists' collective is working on a project in the Dumfries and Galloway town with the theme of communications.
"We have been exploring different methods of communications throughout Creetown's history," said lead artist Will Levi Marshall.
"This has included flags, the ancient ferry route to Wigtown, flares, bell casting and, of course, reviving the tradition of the town crier.
"We have loads of fun, engaging events in the pipeline; these will eventually lead to a new sculpture for Creetown which will be unveiled in the summer."
The project has been commissioned by Creetown Initiative with prize money from the Creative Places awards which the community won last year.