Galashiels man Alexander Kenmuir jailed over stabbing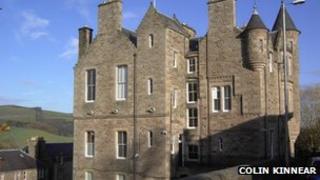 A man who tried to gatecrash a drinking session and ended up stabbing the householder in the neck has been jailed for more than three years.
Alexander Kenmuir, 39, of Tulley Court, Galashiels, reacted angrily after being told repeatedly to go away.
Sheriff Kevin Drummond told him he had appeared in court 54 times since 1990.
He said carrying a knife was a serious offence and jailed him for 40 months, backdated to 20 December when he first appeared in court.
Selkirk Sheriff Court was told Kenmuir had taken a kitchen knife to the house in Galashiels where the attack took place.
He claimed he had taken the blade because he expected trouble.
Kenmuir ended up stabbing his victim in the neck, puncturing his pharynx.
The court was told that doctors had described the injuries as life-threatening and the man had survived due to prompt hospital treatment.
Defence lawyer Ross Dow said the householder had flicked a cigarette at Kenmuir hitting him in the eye which provoked the attack.
The sheriff told him: "At the age of 39, from 1990 to today, you have appeared before the courts on 54 separate occasions for a variety of offences, including six of assault."
He said Kenmuir had admitted the latest charge of assault to severe injury and danger of life.
Sheriff Drummond continued: "No-one in the community can be in any doubt of the seriousness in which the carrying of knives is dealt with by the courts.
"When that knife is carried and used deliberately, the consequences are a matter of luck.
"Having regard to your extensive criminal record, including crimes of violence, I take as a starting point a period of four years imprisonment, reduced to three years and four months, in light of the early plea."