School chaplains 'not silenced' says Scottish Borders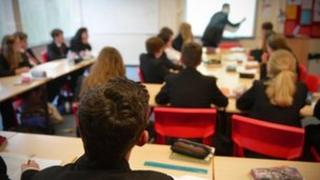 A Scottish council has rejected claims that it is trying to "silence" school chaplains with new guidelines.
A group campaigning against gay marriage hit out after Scottish Borders Council reviewed its policies on religious observance in schools.
The council said the more traditional role of the chaplain "may not prove desirable" to some parents and staff.
A Scotland for Marriage spokesman said chaplains would be prevented from speaking their mind.
Councillor Sandy Aitchison, SBC's executive member for education, said this was a "misreading" of the council's intentions.
He said: "I don't see how they can construe that from the guidelines we have laid down at all.
"We are not trying to stand on any reasonable discussion on religious observance and we are not trying to limit discussion, where it is appropriate to the age group."
Traditional view
Mr Aitchison pointed out that the guidelines were agreed after "full and comprehensive" discussion between representatives of all four political groupings on the council, religious representatives and the two parents who sit on the education committee.
Scotland For Marriage believes that people holding the traditional view that marriage is between a man and a woman are not able to voice their beliefs in institutions such as schools.
They oppose the Scottish government's draft Marriage and Civil Partnership Bill, which ends its consultation period on Wednesday.
Under the plans, religious and belief bodies would need to "opt in" to perform same-sex marriages.
Both the Church of Scotland and Roman Catholic Church are opposed to the proposals.
The Scotland for Marriage spokesman said: "If gay marriage becomes law, anyone who believes in traditional marriage will be treated like an outcast."
He added: "Local councils, with political correctness surging through their veins, will be poised ready to stomp on anyone that disagrees."
Written agreement
Scottish Borders Council's education committee passed its new guidelines on religious observance earlier this week.
They include an appendix which outlines the role of the school chaplain.
It says: "The more traditional role of the chaplain may not prove desirable given the nature of school education, the curriculum today and the wishes of parents and staff."
The new guidelines say head teachers should appoint chaplains and they must produce a written agreement which records "clarity of roles and expectations".
Head teachers must ensure that chaplains have an affinity for working with children and "a commitment to the values and practices of the school".
Mr Aitchison said the head teacher was the "captain of the ship" and was responsible to the council, the parents and the children for ensuring that control was exercised over religious observance and RME (Religious and Moral Education).
He said the concept of religious observance in a multi-cultural, multi-religious and largely secular society could be controversial and it was important that the head teacher "retained an aspect of control".