Justice Secretary Kenny MacAskill makes final force visit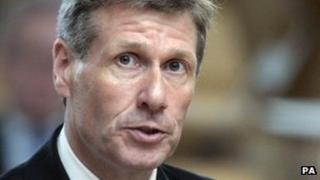 Justice Secretary Kenny MacAskill has made a final visit to Dumfries and Galloway Constabulary before the launch of a single Scottish force.
He met Chief Constable Patrick Shearer and heard from officers involved in a major drugs operation.
It was part of a series of of visits ahead of the creation of the new national force on 1 April.
Mr MacAskill heard first hand from officers who worked on Operation Dulcet throughout the region.
It was launched at the beginning of February - targeting homes in Dumfries and Stranraer.
Police said that 48 people had been charged with various drugs offences as a result of the operation.
They added that drugs with a street value of about £61,000 and some £8,000 in cash had also been seized.