Designs sought for Kelso artwork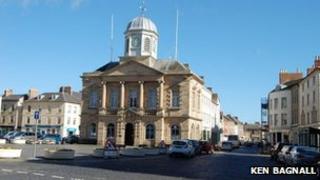 Artists and designers are being invited to submit their proposals for a new public artwork to be sited in the centre of Kelso.
The piece, to be called Kelsae, will be located in front of the town hall.
The £40,000 project will result in a public artwork which should be completed by March 2014.
Charlie Robertson, of the Kelso Stakeholder Group, said the brief aimed to get artists to produce ideas to "embody the spirit of the town".
The project is being funded by Sainsbury's which has opened a supermarket in the town.
Councillor Ron Smith said it was a "great opportunity" for artists.
"I hope local people will take the opportunity to choose the artist and the artwork, which will be a feature of the town for years to come," he added.
The project involves a two-stage process.
Stage one will see a selection panel draw up a shortlist of five artists or designers.
They will then be taken forward to form part of a public exhibition before a final design is selected in early July.