Scotland snow: Dumfries and Galloway dialysis rescue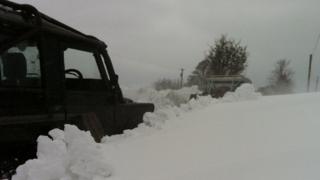 Details have emerged of the rescue of an elderly woman needing urgent dialysis who was trapped by snow in a remote hillside cottage.
Members of the Ae 4x4 Club were called out to the operation after heavy falls in Dumfries and Galloway on Friday.
The normal road to the cottage was blocked with drifts of about 8ft to 10ft (2.5m to 3m) in depth.
A six-hour operation eventually got the woman to Dumfries Infirmary in time for her vital treatment.
More than a dozen members of the south west Scotland 4x4 club were on standby during the snow and blizzard conditions.
They received a number of call-outs from carer organisations to help the elderly, infirm and those in need of medical support who were stranded in their homes.
One of them was the call to help in the "potentially life-threatening" situation of the woman in need of dialysis.
With the normal route blocked, three Land Rovers were sent along a disused railway track which went to within two fields of the cottage.
At the same time, a local farmer attempted to start digging from the cottage outwards while the 4x4s slowly edged through the snow.
They eventually met up after an operation lasting several hours and the woman was placed in the "most comfortable Land Rover".
The convoy then struggled back to the main road only to find the A711 road was blocked and be turned around by police.
A detour through Haugh of Urr took them onto the "just passable" A75 and on to Dumfries.
"Around six hours of winching and pulling by Ae 4x4 club members helped to stop a situation becoming critical," said club spokesman David Lynn.
"Struggling through drifts that were almost higher than the 4x4s makes you realise that the old country maxim rings true: if you live in the country it's your duty to help each other when the need arises."
However, he admitted that conditions had "taxed even our very experienced off-roading members".