New building for Kelso conservation area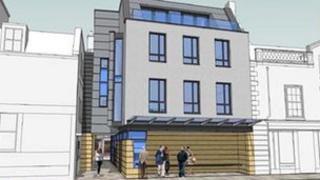 The main contractor has been appointed for a project to replace a property in Kelso town centre which was lost more than 50 years ago.
Scottish Borders Council has chosen M & J Ballantyne Ltd to carry out the £780,000 redevelopment within the town's conservation area.
The current public toilet block will be demolished and replaced with a three-storey and attic building.
The work will start in May and is expected to take about 40 weeks.
The development will provide office accommodation and new public toilets on the ground level.
It will also retain the pedestrian link between Horsemarket and Woodmarket, and provide bus shelters.
Funding has been provided by the European Regional Development Fund, Kelso Townscape Heritage Initiative and Scottish Borders Council.
Councillor Ron Smith, executive member for planning and environment, welcomed the appointment of the main contractors, which he said would allow work to start on a "key heritage objective".
"This project is considered a priority and will bring a range of social and economic benefits to Kelso's residents, businesses and visitors," he said.