Jobs lost as historic Caerlee Mills in Innerleithen closes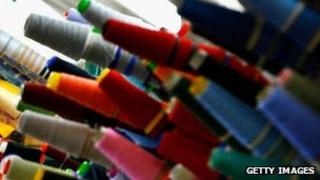 Efforts to save Scotland's oldest continually-operating textile mill from closure have failed.
Caerlee Mills in Innerleithen, in the Borders, has shut with the loss of 33 jobs. Three staff have been retained to help in winding down the business.
The gates of the mill closed after production came to an end on Friday.
Liquidators KPMG had attempted to secure the sale of the 225-year-old mill as a going concern, but no interest was expressed.
At its peak the mill, which dates back to 1788, employed 400 workers.
Previous owners JJ & HB Cashmere went into administration three years ago with the loss of 132 jobs.
The site was saved from closure then by a management takeover.
However, the firm got into difficulties after its main customer decided to significantly reduce the volume of manufacturing at Innerleithen.
Blair Nimmo, of KPMG, thanked staff for their co-operation during the "difficult process" and said the liquidators would work to ensure that employees would receive support to find new jobs.
He said: "Despite our best efforts to secure the sale of the mill we have been left with no option other than to cease all operations with immediate effect.
"Unfortunately 33 of the company's 36 employees have been made redundant, with three staff being retained in the short term to assist in winding down the business.
"There was no interest expressed from parties looking to continue running Caerlee Mills as a going concern, which has ultimately led to its closure."