Selkirk studio celebrates landmark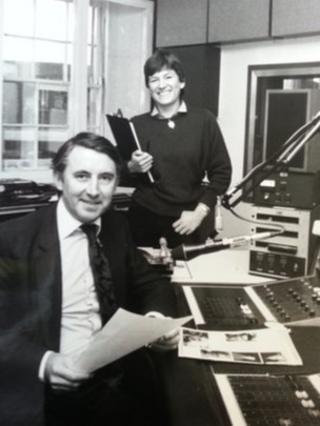 Radio Tweed opened in April 1983.
The then district and regional councils had supported the BBC, some making a cash contribution.
The studios were in the council-owned Municipal Buildings in Selkirk, upstairs from the rent office.
The first staff team included Caroline Adam, Colin Wight, Liz Irving and Brigitte Geddes.
But the need to fill two 30-minute slots each weekday with local material meant that a number of freelances were trained to use the Uher portable recording machines, loaded with reel-to-reel tape, then shown how to edit with razor blades and sticky tape.
Many a curse and a cut finger ensued until the technique was perfected.
My own first freelance assignment was to cover the annual exhibition of Hawick Stamp Club in the town hall.
I got carried away and filled the five-inch tape ... 15 minutes of material for a three-minute item.
Radio Tweed's output consisted of Morning Magazine, a local version of Good Morning Scotland, and a variety of evening programmes transmitted from 5.30pm to 6pm.
The only evening show which lasted right through the Radio Tweed era was Border Weekend, which previewed the local sporting action, although for a brief period early on it also included a "What's on at the local cinema" feature.
There were local music shows, programmes on local history, cookery, education, arts and culture, and all sorts of other delights.
A Desert Island Discs-type show, featuring local people, was one of the highlights.
There was a ground-breaking comedy programme called Up to the Pips and even a knockout quiz competition for the Whae Kens Trophy which, to my knowledge, still sits in a cabinet at Jed-Forest's Riverside Park.
The early days were full of fun, as well as a lot of hard work.
The first full programme I produced was presented by pupils from Hawick High School.
They had just been on a trip to World War I battlefields.
They gave their own impressions of what they had seen but also interviewed veterans from the Great War in what was then 70 years after the event.
In those days the BBC Children in Need appeal saw the production of hours of local programming on the day, with fund-raisers coming to the studio, often in fancy dress, and handing over buckets of cash.
I had my beard shaved off live on air for the charity, with Dan Buglass, our then agricultural correspondent, challenged to eat raw eggs. He did ... and lived to tell the tale.
Christmas Eve saw extra local programming.
The Salvation Army Band performed outside the building, we had spent the previous weeks recording local school children singing carols all over the Borders and a variety of guests, including local MPs, came into the studio.
There were a couple of live radio pantomimes, including a local version of Aladdin where the gent's loo, because of its echoey acoustics, was used as a "cave".
Local council elections were also covered in depth with a late-night results and analysis programme.
We also, on occasion, opted out to provide live commentary on Border League rugby matches.
The change from local programmes to local news bulletins over 20 years ago wasn't universally welcomed, to put it mildly.
But there is still an audience there for local news and, I'd like to think, the listeners generally appreciate what is provided.
There's no doubt, though, that the profile is lower than in the days when there were Radio Tweed car stickers and even a Radio Tweed caravan touring the local agricultural shows.