Langholm textile firm Reid and Taylor job losses 'devastating'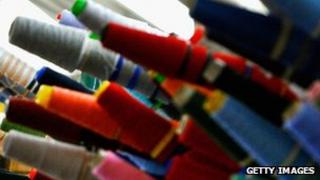 An MP has said the loss of more than 30 jobs after a Langholm textile firm entered administration is "devastating news" for the town.
Reid and Taylor, which dates back to 1837, blamed the move on a lack of working capital to purchase supplies to meet orders.
Dumfriesshire MP David Mundell said it was a "real blow" to the community.
He said his first priority was to "help and support" all those who had lost their jobs.
Mr Mundell said the news was "particularly disappointing" as the factory had a full order book but was unable to continue financing operations.
"I will continue to keep in close contact with the administrators and local agencies so that I can do everything possible to support the affected individuals and the community," he said.
"There are now big questions over the future of the business and the site, but given the way the business and manufacturing rights were structured the outlook is not positive at this time."
However, he pledged to work on behalf of the community to secure the "best possible outcome".
A spokesman for administrators O'Hara & Co said parties interested in the site were expected to come to Langholm this week to view the facilities.